GLSandbox
Posted: 6 Jun 2005 at 22:38 by Codehead

GLSandbox is a tool that I developed to help out on my OpenGL projects. I seem to spend a great deal of time tweaking blending parameters and fiddling with alpha testing to get things to look right.
This normally takes the form of:
Tweak the blend/alpha code
Recompile
Fix any new errors
Recompile
Try to align the objects in the scene so that specific polygons overlap and I can see the result of the blend / alpha test
Tweak the code again
Recompile
Wish that I had kept the parameters that I tried four or five builds ago
Now there's an easier way.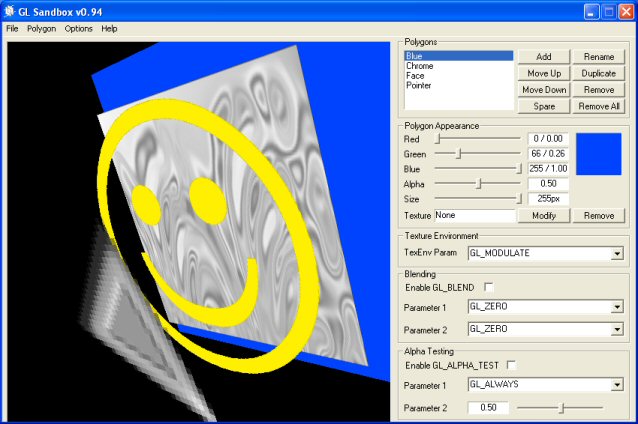 GLSandbox allows quick, simple and on-the-fly adjustment of appearance, blending and alpha test parameters. Real-time results show you the exact result of operations, enabling you to know instantly which functions and values to use to achieve the effect you want.
Implemented Features
Real-Time feedback from most operations. (Selection of textures and texture parameters takes place in a separate dialog.)
Each polygon has it's own properties including, Color, Size, Position, Texture, Blend, Enviroment and Alpha test parameters.
Support for TGA, PCX, BMP and SBM textures.
Orthographic and Perspective view modes.
Mouse control of polygon position (2D) or view angle (3D) in the render window.
Loading and Saving of scenes.

ToDo List
Mouse selection of polygons in the render window.
Known Issues
Captions and labels do not scale well on systems with larger fonts. GLSandbox is no longer under development. The code uses old outdated GL1.1 calls, but I'm leaving a pgae up for anyone who might still want to use the tool.
---
---